Sabion© is an innovative sound reinforcement company that offers top of the line audio, lighting, staging, rehearsal space, and custom enclosures.
From conference rooms to churches to arenas, Sabion can accommodate ALL size venues for all clients.
Our goal is to provide the most vibrant re-creation of sound and music for your event.

Sabion Sound Reinforcement Company© was founder by
Don Cartelli, an experienced sound technician/musician.

Don is the son of Tony Cartelli, former country recording artist of "Lehigh Valley Boys", who has toured with such greats as Tex Ritter, Eddy Peabody, Roy Acuff and many other Grand Ole' Opry talents.


...MORE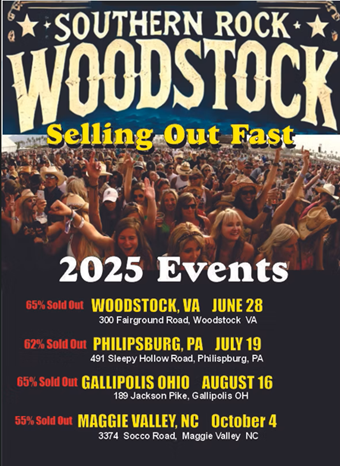 | | | |
| --- | --- | --- |
| Date | Event | Venue |
| | | |
| Jun 2023 | | |
| | | |
| Jun TBA | Dance Delaware Recital | TBA, Wilmington, DE |
| Jun 10 | Southern Rock Woodstock | Shenandoah Fairground, Woodstock, VA |
| | | |
| Jul 2023 | | |
| | | |
| Jul 6 | Riverfront Summer Concerts 1 | Tubman-Garrett Park, Wilmingtono, DE |
| July 13 | Riverfront Summer Concerts 2 | Tubman-Garrett Park, Wilmingtono, DE |
| July 20 | Riverfront Summer Concerts 3 | Tubman-Garrett Park, Wilmingtono, DE |
| Jul 22 | Southern Rock Wagon Wheel | Wagon Wheel Amphitheater, Philliipsburg, PA |
| Jul 27 | Riverfront Summer Concts 4 | Tubman-Garrett Park, Wilmingtono, DE |
| Jul 29 | Souther Rock Waynesville | Smokey Mountain Event Center, Waynesville, VA |
| | | |
| Aug 2023 | | |
| | | |
| Aug 3 | Riverfront Summer Concerts 5 | Tubman-Garrett Park, Wilmingtono, DE |
| Aug 5 | Southern Rock Cecil County | Uncle Bob's Concert Park, Elkton, MD |
| Aug 10 | Riverfront Summer Concerts 6 | Tubman-Garrett Park, Wilmingtono, DE |
| Aug 17 | Riverfront Summer Concerts 7 | Tubman-Garrett Park, Wilmingtono, DE |
| Aug 19 | Southern Rock Gallia County | Gallia County Fairgrounts, Gallipolis, OH |
| Aug 24 | Riverfront Summer Concerts 8 | Tubman-Garrett Park, Wilmingtono, DE |
| Aug 31 | Riverfront Summer Concerts 9 | Tubman-Garrett Park, Wilmingtono, DE |
| | | |
| Sep 2023 | | |
| | | |
| Sep TBA | Blues Cruise | Spirit of Philadelphia Cruise Ship, Phila, PA |
| | | |
| Oct 2023 | | |
| | | |
| Oct 8 | Heart Walk (Am Heart Assoc) | Tubman-Garrett Park, Wilmingtono, DE |
| | | |
| Dec 2023 | | |
| | | |
| Dec TBA | Dance Delaware Recital | TBA, Wilmington, DE |
| | | |
13 Copper Drive, Wilmington, DE 19804
Telephone - (302) 427-0551
FAX - (302) 427-0188
Mailing Address
15 W. Reamer Ave., Wilmington, DE 19804